Selain menciptakan senapan mesin pertama, ternyata seorang dokter gigi yang lain menjadi penemu ide kursi listrik!! Namanya Dr. Albert P.Southwick, seorang dokter gigi yang juga insinyur dari New York.
Inspirasi memang bisa datang kapan saja dan di mana saja. Jika jaman dahulu kala Archimedes digosipkan menemukan bagaimana cara menghitung volume benda saat sedang asyik mandi, maka pada tahun 1881 pak dokter yang satu ini mendapat inspirasi saat menjadi saksi mata seorang pemabuk tua mati kesetrum listrik dari generator yang menyala. Ia begitu takjub melihat bagaimana orang tua tersebut mati dengan begitu cepat dan (terlihat) tanpa penderitaan sama sekali.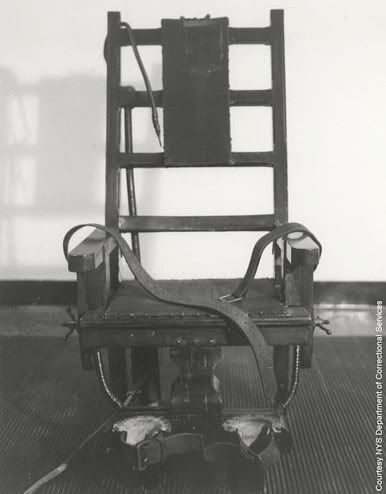 Dr Southwick berkesimpulan bahwa listrik dapat menjadi alternatif yang patut dipertimbangkan untuk menghukuman mati para pesakitan. Bekerja sama dengan gurbernur New York saat itu, pak dokter memperjuangkan peng-legal-an hukuman mati dengan cara disetrum. Hukum pertama yang memperbolehkan penggunaan listrik sebagai hukuman mati berlaku efektif mulai pada tanggal 1 Januari 1889.
Pada tanggal 6 Agustus 1890, jam 6 pagi waktu setempat, William Kemmler menjadi orang yang "beruntung" untuk dicatat oleh sejarah sebagai orang pertama yang dipanggang di kursi listrik. Ia didakwa membunuh kekasihnya dengan kapak. Namun sayangnya Kemmler tidak seberuntung pemabuk tua yang menjadi sumber inspirasi ide kursi listrik. Kemmler tidak langsung mati "dengan tenang". Ia shock dulu selama 17 detik, namun masih tetap hidup.
Ternyata teknisi yang bertugas salah memprediksi voltase listrik yang diperlukan untuk membunuh seorang manusia. Voltase listrik akan ditingkatkan dua kali lipat dari 1000 volt menjadi 2000 volt. Sialnya, generator yang digunakan sebagai sumber listrik perlu di charge ulang!! Kemmler dibiarkan menunggu dalam keadaan gosong dan mengaduh kesakitan. Usaha penyetruman kedua berlangsung selama 1 menit dengan hasil akhir berupa Kemmler yang akhirnya mati, bau daging terbakar yang memenuhi ruangan dan asap yang mengepul dari kepala Kemmler.
Beberapa kutipan tentang hukuman mati ini:
1. Westinghouse: "They would have done better using an axe"
2. Seorang reporter yang menyaksikan secara langsung: "An awful spectacle, far worse than hanging"
3. New York Herald: "Strong men fainted and fell like logs on the floor"
4. George Fell, asisten eksekutor: "The man never suffered a bit of pain"
dan terakhir….. quote dari pencetus ide kursi listrik, Alfred P. Southwick… "There is the culmination of ten years work and study!! We live in a higher civilization from this day."
Entah apa yang dipelajari para dokter gigi di universitas sehingga mereka bisa menemukan ide untuk membuat senapan mesin dan kursi listrik. Yang pasti, mulai sekarang bebek gak bisa berpikir yang enggak-enggak begitu mendengar atau membaca kata "dokter gigi".
Tidak sampai di sana, bebek mendapatkan iklan "mengerikan" yang seakan menjustifikasi anggapan ngawur bebek kalau dokter gigi mempunyai bakat alami menjadi seorang yang sadistis.